Wednesday Night Concert Series | April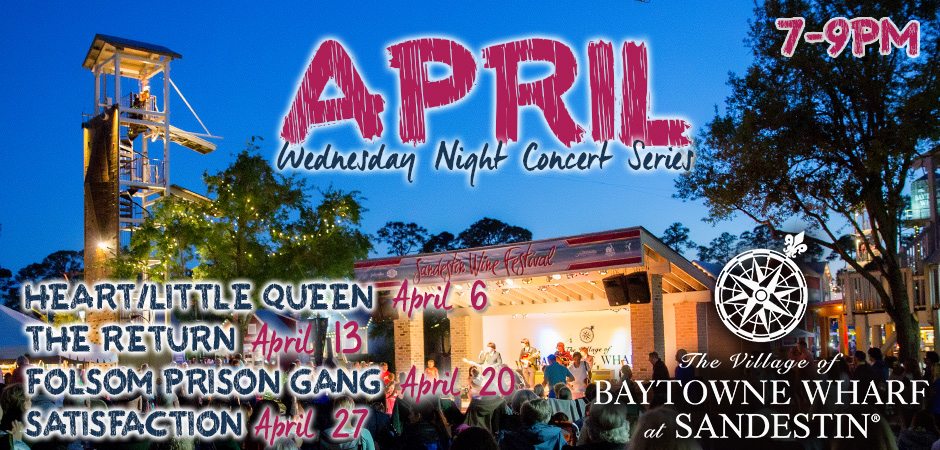 Heart Little Queen
Coming to us from Nashville, Tennessee, members of Little Queen share a passion for the music of Heart, recreating the sounds and sights of the classic 70's & 80's hits. The tribute band combines six talented musicians whose shared vision of reproducing the great Heart concerts has led them to perform nation-wide including headlining for Walt Disney's "Sounds Like Summer Concert Series," in 2011. Each musicians talent delivers a show that captivates audiences all around.
The Return
Formed in 1995, The Return started with four young friends who enjoyed playing their favorite Beatles songs together for fun, which soon progressed into performing shows nation-wide. All focused on striving to deliver the most authentic Beatles concert experience. Today they band strives to bring the utmost authenticity into every show.
Folsom Prison Gang
The Johnny Cash Tribute Band, will be joining us for another year of our April Tribute Concert Series. With a shared passion for recreating a top-notch delivery, of the American icon, Johnny Cash, the group continues to impress audiences everywhere they perform. With an unparalleled delivery they've gained a solid standing as America's leading Johnny Cash tribute band.
Satisfaction
Recreating the sound of the legendary Rolling Stones, Satisfaction has become a widely known International touring tribute band to one of the world's iconic Rock & Roll Band. Performing over 2,500 shows around the world, they've captured audiences from top casinos, performing arts centers, and music halls for the past 15 years. Featured in Rolling Stones Magazine, Las Vegas Today, and CBS Sunday Morning News, this cast brings a colorful performance to over 50 years of rock & roll hits.