Tribute Weekend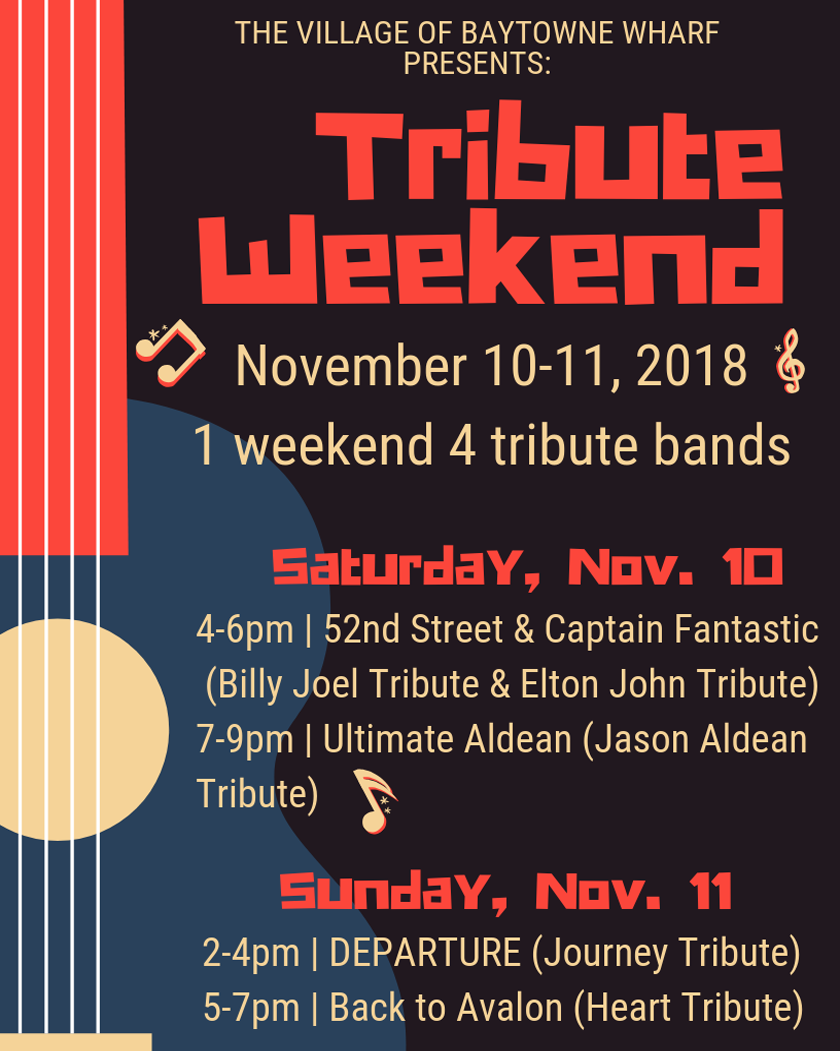 The Village of Baytowne Wharf Presents Tribute Weekend. Rock out the weekend and enjoy live music from 4 great tribute bands. Grab your blankets and lawn chairs and meet us on the events plaza lawn for a jam-packed weekend of incredible music and talent
Saturday, November 10th ~ 4-6pm | 52nd Street and Captain Fantastic
It's "Still Rock-n-Roll" when 52nd St. comes to town! 52nd St. performs all the BIG HITS of the legendary Billy Joel. From rockers like "Big Shot" and "You May Be Right" to ballads like "Just the Way You Are" and "She's Got a Way" to perennial favorites like "Piano Man" there's something for everyone! Take a journey with the Rocketman. Captain Fantastic, the premier Elton John Tribute Show, will dazzle you with an amazing musical extravaganza! "You're gonna hear electric music, solid walls of sound", as Captain Fantastic and the Rocketband perform stunning recreations of your favorite Elton John hits from the 70's. Captain Fantastic will amaze you with costumes that go from bizarre to breathtaking, and his amazing 5-foot baby grand piano will shower you with lights, smoke, lasers, and a few surprises. You may think you've gone down the Yellow Brick Road!
Saturday November 10th ~ 7-9pm | Ultimate Aldean
Growing up in a musical family, Greg started playing the guitar at age 14 and took vocal lessons at the age of 21. After spending many years performing in local bar circuit Greg dreamed of moving to Nashville to pursue his musical career. The death of Greg's father in 2007 prompted Greg to take a leap of faith and head out to Nashville to follow his dreams. When Greg returned home, friends began approaching Greg telling him, "congratulations! You finally made it! Confused by these comments, Greg soon became aware that there was a fairly new country artist named Jason Aldean who Greg apparently looked like. Over the next 4 years, Greg got approached by the public asking if he was Jason Aldean. In 2011, when Jason Aldean hit it big with "Dirt Road Anthem" people really started to approach Greg.
Sunday November 11th ~ 2-4pm | Departure
In their 10th year together, DEPARTURE is the most respected Journey tribute band in the nation. DEPARTURE replicates the look, sound and feel of the original 80's rock super group. All five DEPARTURE band members are from the original line-up and have been together from the very beginning. These veteran musicians love what they do and have developed an amazing on-stage chemistry and pride themselves on giving their audience an incredible high-energy, qualitative stage show from start to finish. DEPARTURE lead vocalist, Brian Williams, has an amazing singing voice flawlessly matching Steve Perry's vocal range and on-stage movements, exactly.
Sunday November 11th ~ 5-7pm | Back to Avalon
Nashville's premier Heart tribute band. Each talented member is world traveled with an impressive number of years of experience and skill; thus obtaining their title as "monster musicians." Combined with unceasing stellar performances, this has aided to create a solid foundation for this fabulous tribute to Heart.