Wednesday Night Concert Series | April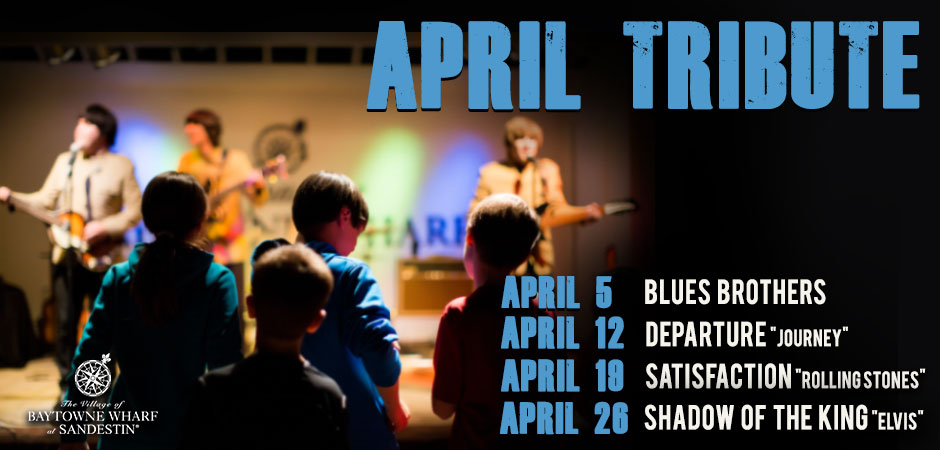 Blues Brothers
A Soul, Rhythm, and Blues Tribute, The Blues Brothers is a high-kicking, hard-rocking, feet-stomping powerhouse of a performance. The sets hit a wide-range of variety from Soul to Blues to Stax/Volt Rhythm and Blues, something for everyone to enjoy!
Departure "Journey Tribute"
Departure has become one of the most respected Journey tribute bands in the nation. Replicating the look, feel, and sound of the original 80's rock band. These musicians have developed an amazing chemistry, with high-energy, and an on-stage presence that shows. Voted "Best Local Entertainer" for 2011, 2012, and 2014 by Gwinnett Magazine, they're no strangers to the stage, performing around 100 shows annually, they deliver an energetic show sure to please all ages.
Satisfaction "Rolling Stones"
Internationally acclaimed as the most authentic cast that production show, honoring the World's Greatest Rock & Roll Band, Satisfaction will bring you back in time. Chris LeGrand, cast member in the role of Mick Jagger, founded the show in 2001 with the goal of producing the first touring tribute show in honor of the World's Greatest Rock & Roll Band. With over 35 years experience in the music industry and a bachelors degree in business, he has grown the show to 150 performances annually.
Shadows of the King "Elvis"
Jamie Harris' Shadow of the King offers an outstanding show, with a downright eerie comparison to Elvis, some say it's the closest they've seen an heard to Elvis in years. With a superb voice second to none, authentic costumes, realistic mannerisms and moves. He has appeared on several TV shows and has won competitions locally, nationally, and internationally. The quality of his shows remain unsurpassed, receiving overwhelming acclamation.