Wednesday Night Concert Series | March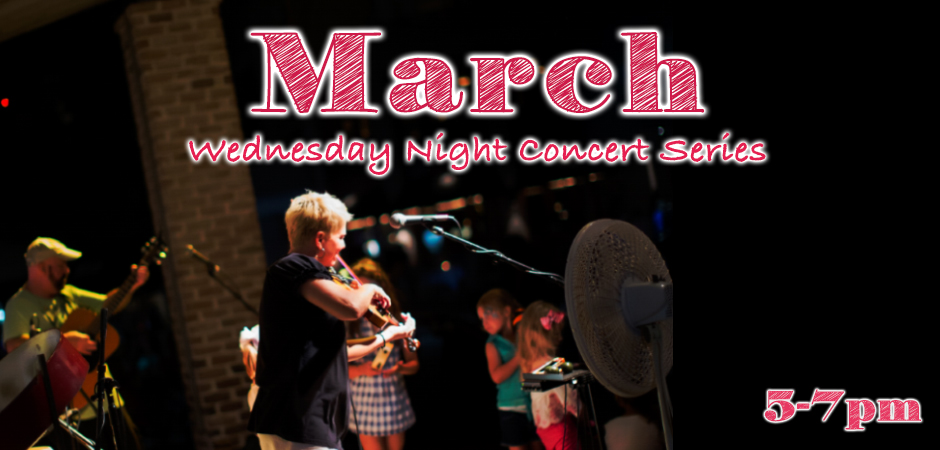 March 1, Donnie Sundal
Donnie's career has been as unique and eclectic as his expansive portfolio of songs he has written, performed and produced. Captivating his audience with a sound that is always soulful, funky, and on point, Donnie creates an infectious atmosphere when he's in front of an audience. Following his academic career at Berklee College of Music, Donnie began touring throughout the US and Canada, finally choosing Destin as his home. He opened Neptone Recording Studios, shortly after, a full-service music recording facility. After establishing Neptone, Donnie formed Boukou Groove in 2010, with New Orleans guitar luminary Derwin "Big D" Perkins. As they continue to refine their style, and build upon even more in 2017.
March 8, Heritage
Hailing from Destin, FL. Heritage started out as small backyard gatherings with family and friends, which soon turned into something much larger. By 2009, the group had enough original material to release their first full-length album, Natural High. Heritage's members began performing, writing, and touring throughout the South East. With a diverse blend of members hailing from Hawaii, California, and Florida they offer a diverse set of influences & a passion for creativity. Heritage's music is a unique blend of roots reggae, So-cal surf-rock, alternative rock and hip-hop.
March 15, Luke Langford & the 331 Band
Luke Langford and the 331 South Band are a 5-piece country band based in Freeport, Florida. Playing everything from original music to covers of classic Haggard & Cash to today's great songwriters like Eric Church, Dierks Bentley and others. Influences of their favorite artists include Reckless Kelly, Aaron Watson, Wade Bowen, Cody Johnson Band, Stoney Larue and others.
March 22, Chris Alvarado
Award-winning singer/songwriter Chris Alvarado is currently based out of Santa Rosa Beach, FL. For the past several years Chris has been recognized as a finalist in the Nashville Music City Songwriting Competition. Chris has performed at the Florida Grammy Showcase in Orlando, FL where a panel of judges selected him as the winner out of six acts that were selected from the state of Florida. Chris' composition is full of engaging poetics, often compared to John Mayer, Jack Johnson, and Jason Mraz.
March 29, Forrest Williams
Growing up in the hills of Arkansas, Forrest picked up his first guitar at the age of 14. Many of his influences came from music he grew up listening to including, Rock, Blues, Country, and Folk music. His style covers a variety of music, incorporating acoustic guitar and the harmonica.