Wednesday Night Concert Series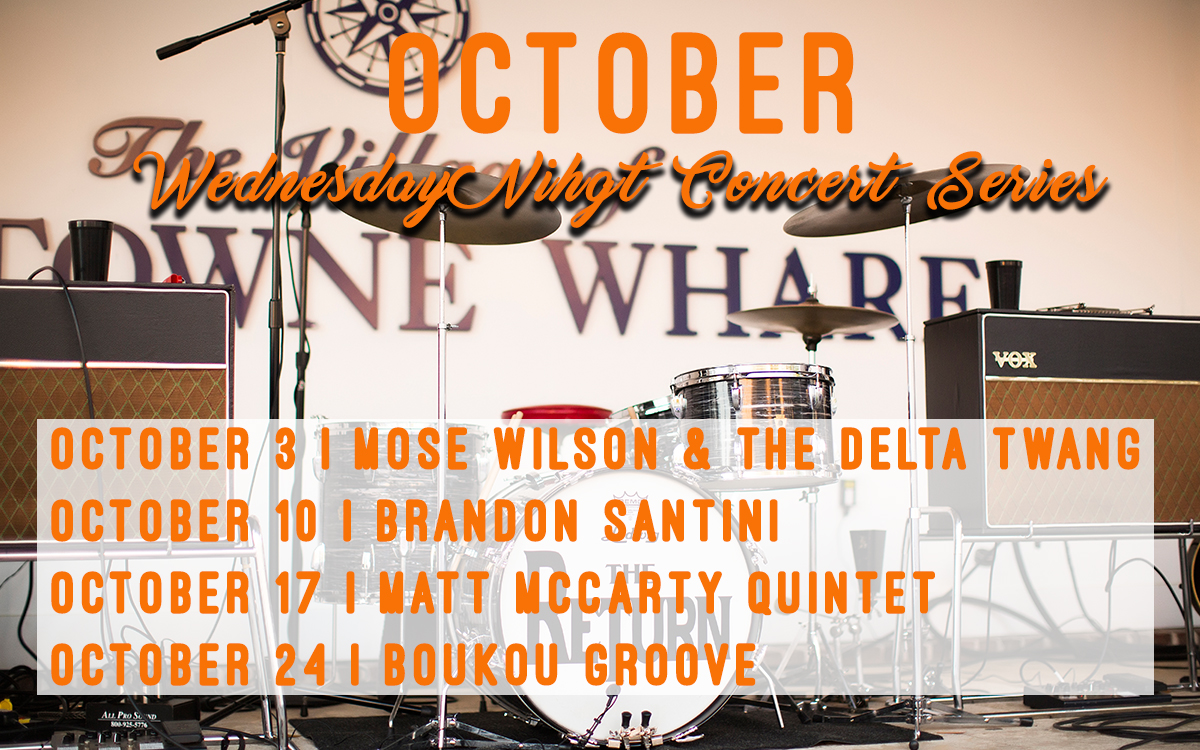 Enjoy the crisp, fall air with a concert on the lawn this October. Every Wednesday night this month enjoy LIVE entertainment by local and regional artists in the Events Plaza. Concerts are 7-9pm.
October 3 | Mose Wilson and The Delta Twang
Mose Wilson, previously of Hotel Oscar, has started a new group, "Mose Wilson and The Delta Twang" , a band with a sound that meets somewhere in between New Orleans Blues and Nashville Honky Tonk. The members include John Reinlie (Owsley Brothers, Dread Clampitt) Joe Pizzolato (Boukou Groove, Okaloosa Sound) Ben Parsons (Schatzi and the String Boffin), and Dion Jones.
October 10 | Brandon Santini
There are many different opinions as to what the future of the blues harmonica will be. Memphis vocalist and harmonica player Brandon Santini is undeniably a worthy player to keep an eye on as the latest surge of young blues artists leave their footprint in blues history. His name is worthy of conversations that include James Cotton, Kim Wilson, Dennis Gruenling, Charlie Musselwhite and other frontline harmonica players by combining his love and respect for traditional blues with a present, colorful style of playing that is often compared to James Cotton or Paul Butterfield. Raised in the Piedmont region of North Carolina, Brandon purchased his first harmonica in 1997 at the age of fifteen when his mother took him to the local music store upon his request. He founded the Blues Music Award nominated band Delta Highway in 2003 and relocated to Memphis where he absorbed the sounds and culture of the Delta and North Mississippi Hill Country, honing his craft night after night, sweating it out in local Beale Street clubs just like Robert Johnson, Muddy Waters, and B.B. King did decades before him.
October 17 | Matt McCarty Quintet
Matt McCarty has played saxophones for over 25 years and has performed with Bobby Shew, Christian McBride, Arturo Sandoval, The Manhattan Transfer, Jim Payne and Melvin Sparks. The Matt McCarty Quintet has been nominated Best Jazz Artist for the past three years by the Beachcomber newspaper of Destin, FL. The group plays real jazz and enjoys putting a new twist on the classic standards.
October 24 | Boukou Groove
Boukou Groove provides audiences with a genre-bending collective, touching on elements of New Orleans Funk, R&B, Soul and Blues. Founded on the stage at Tipitinas in NOLA in 2010, Boukou Groove is the brainchild of singer/producer Donnie Sundal and New Orleans guitar luminary Derwin "Big D" Perkins. Sundal, sharing stages and recording with the likes of Sam Bush, Col.Bruce Hampton and Nigel Hall of Lettuce creates an infectious blend of energy and enthusiasm as he showcases his multi-octave ranging vocals while sustaining his brand of lavish Moog bass lines. Big D (Jon Cleary and the Absolute Monster Gentleman, Bonnie Raitt and Dr.John) provides his smooth and funky guitar licks largely based on improvisation and feel alone. Together, no matter what the venue, the band provides their distinguishing style and creates a kinetic environment that's easily spread throughout the audience.